Wednesday, December 30, 2009


The Hummer H2 is built under contract by AM General at a specially constructed plant in Mishawaka, Indiana, USA. Although it shares GM's GMT820 truck platform with the Chevrolet Tahoe and GMC Yukon, those vehicles differ in many ways and are constructed in three other GM plants. The H2's final frame assembly is made up of 3 sections: The front uses a modified GM 2500-Series utility frame, the mid-section is all new and is completely boxed, and the rear section uses a modified GM 1500-Series frame which is upgraded for the 8,600 pound (3629 kg) gross vehicle weight. The 2008 Hummer H2 does 0-60 in 8.2 seconds.

The H2 was nominated for the North American Truck of the Year award for 2003. The H2 appeared in the video game Midnight Club 3. Hummer launched a special 2009 Black Chrome Limited Edition version of the truck. In January 2009, a study by ISO Quality Planning revealed the H2 and H3 Hummers to be the most ticketed vehicles in the United States.
Tuesday, December 29, 2009
Make Aetek Model FYK Concept year 2006 Production year - Engine natural/hydrogen gas The FYK concept car was developed by Norwegian company Aetek, in conjunction with and sponsored by Statoil. The FYK was designed to highlight natural and hydrogen gas powered environmentally friendly vehicles. Statoil provide the fuel for the FYK concept car. They see the natural and hydrogen gas mixture called NaturalHy (HCNG) which consists of 8-20% hydrogen, 92-80% compressed natural gas to be a commercially viable step towards a future potential all-hydrogen market. The FYK concept car is built almost entirely from recyclable aluminium including body, chassis, wheels, engine and even interior elements. Exterior and interior design of the FYK concept show different aluminium shaping techniques and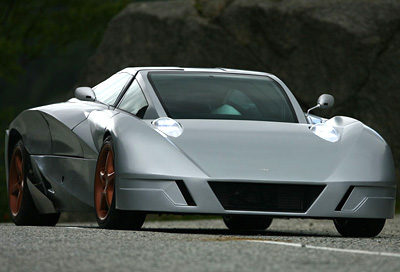 Aetek FYK Concept Car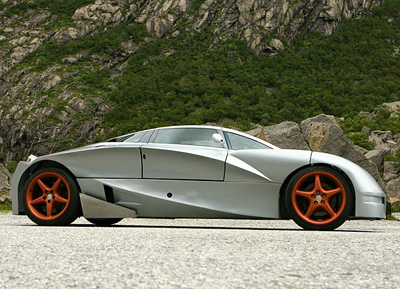 Aetek FYK Concept Car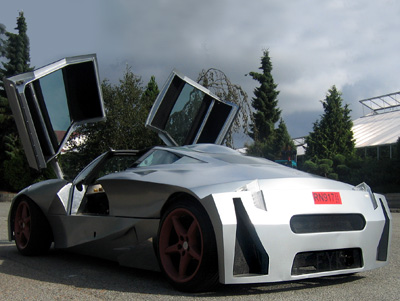 Aetek FYK Concept Car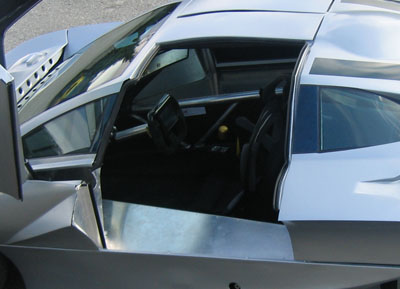 Posted by

Humna
at 10:20 PM

Designer Lei Liu has put his thought upon giving form to an elite city car concept that would offer a stress-free ride even amidst jammed roads and digging space for itself in tight parking lots. Called Airwaves, this miniature coupe does away with the tension of bearing the awful jams and freeing you from the risk of dents and scratches. Instead of hinging outward, its electronic door spins upright to avert others being "doored". Besides considering the safety of its passangers, it gives equal amount of attention to other commuters on the road. The backside of Airwaves features LCD screen that keeps the onlookers engaged during traffic jams with useful information displayed related to weather reports, news or greeting words from the driver. This people friendly car gives a deserving trinute to environment as well by making 0% emissions. I think you would agree with me that the safety of small cars is really important; therefore an accessibility of the special lift mechanism in Airwaves can offer good safeguard for the driver, passengers and pedestrians. It workd like this: The minute driver uses emergency brake, the car hits pedestrian and the cabin will lift up by inertia. During that hour, the outside and inside airbags will be unconfined to defend the people inside and outside.
Posted by

Humna
at 10:18 PM

The MYBUS concept car created by Portuguese designer Nuno Teixeira. The MYBUS concept car had been displayed at the 2007 Detroit Motor Show and won the "Outstanding Design Award" in the 2007 Michelin Challenge Design. The MYBUS concept car featuring: electronic stability systems, smart cruise control, brake-by-wire, rear detection systems, smart wing mirrors, and Michelin "Twell" tires. The MYBUS concept car is a proposal for a passenger vehicle with an emphasis on safety, for both passengers, pedestrians and other road users.
To reduce the impact on the environment, and the danger of an explosion in case of an accident, the MYBUS concept car using an electrical power source for the energy. Power for the MYBUS concept car is provided by batteries placed above the rear wheels, away from the most obvious impact zones. Each wheel has its own independent motor in order to improve safety, so that the onboard computer can determine the ideal power to supply them. The system reacts according to the road conditions and the type of driving, it also helps anticipate and react to an imminent accident situation. Great concept for MYBUS concept car.
Posted by

Humna
at 10:15 PM

I suppose, these auto shows will never stop surprising us and car creators will never get tired of making new and completely great cars. Have you ever heard about Morgan? Yeah, but apart from a famous fashion apparel brand, it is the traditional British car brand, and it has officially announced that it is going to launch a LifeCar concept, that is a hydrogen-fueled car possessing a wood-frame body. This super car will be presented at the 2008 Geneva Auto Show.
Needless to say, that the LifeCar is a zero-emissions car. How does it look like? As for me it looks like a combination of the Aero 8, but with extremely large coverings on the wheels. Resembles concept and not a real car. Apart from it super natural body, it looks too sophisticated. According to Morgan such prominent companies as Oscar Automotive, QinetiQ, Oxford University and Linde took part in its development.
There is a new model in the Aero range - the Morgan Aero 8 America. Starting price looks like this $115,000 and you will get graphite side scoops, a rear diffuser, and side exit exhausts. As to its interior, we have a deal with full quilted leather. Engine: 4.4-liter BMW V8.
Posted by

Humna
at 10:14 PM

Paulin Motor Company, founded by well-knowned designer Daniel Paulin launches its first vehicle. This concept car aims to demonstrate Paulins vision of future design directions aiming for the market requirements of 2012 and further. Daniel Paulin have a background as designer at Ford Motor Company where he among other projects where responsible for the exterior design for the 2004 Ford Focus concept car, the exterior Ford Focus C-Max 2003 and also designer for the FAB1, Thunderbirds the movie.
- I have studied the development of the last decennium and believe this is a logical development where I have tried to create shapes where controlled sculptural surfaces meets dynamic graphical break-ups, says Daniel Paulin, CEO and Creative Director of Paulin Motor Company. Paulin Motor Company has used Opticore visualization solutions to produce images and real-time presentation environments. - Opticore Real Time Ray Tracing has helped my product to come to live, Daniel Paulin says. Since there is no physical mock-up, Opticore solutions have given me a great solution to demonstrate my vehicle for prospective partners.
Its very interesting times for the high end visualization business. With Opticores tools, the boundary in-between virtual reality and real life is now removed. The quality has reached a level where many design decisions can be made with out the need of physical prototypes. Paulin currently involved on several design projects around the globe will continue to launch concepts to highlights trends and ideas of where automotive are and should develop. The concept car features several creative solutions both from a design and a technical perspective. With its proportion the car is a pure 2 seated GT concept. Cockpit feeling is inspired by modern jet-fighters. The windshield/roof is hinge in the cowl area. In open position, the doors can be open independently.
The rear wing is integrated in body with a flush condition. In use it moves up and rotates to create appropriate down force. Camera mirrors in the shape of blades, located above the rear fender for best visibility. The view can be seen on a wide display just above the instrument panel. In the interior, less is more - 2 bucket seats, steering wheel, gear shifter and a control unit. Paulin continues. This concept car is a pure driving oriented vehicle where the design intent is all about simplicity and functionality in true Scandinavian fashion.
Posted by

Humna
at 10:10 PM

Posted by

Humna
at 10:07 PM

Car wallpapers
Car wallpapers
Car wallpapers
Car wallpapers
Car wallpapers
Car wallpapers
Car wallpapers
Car wallpapers
Car wallpapers
Car wallpapers
Car wallpapers
Posted by

Humna
at 9:47 PM